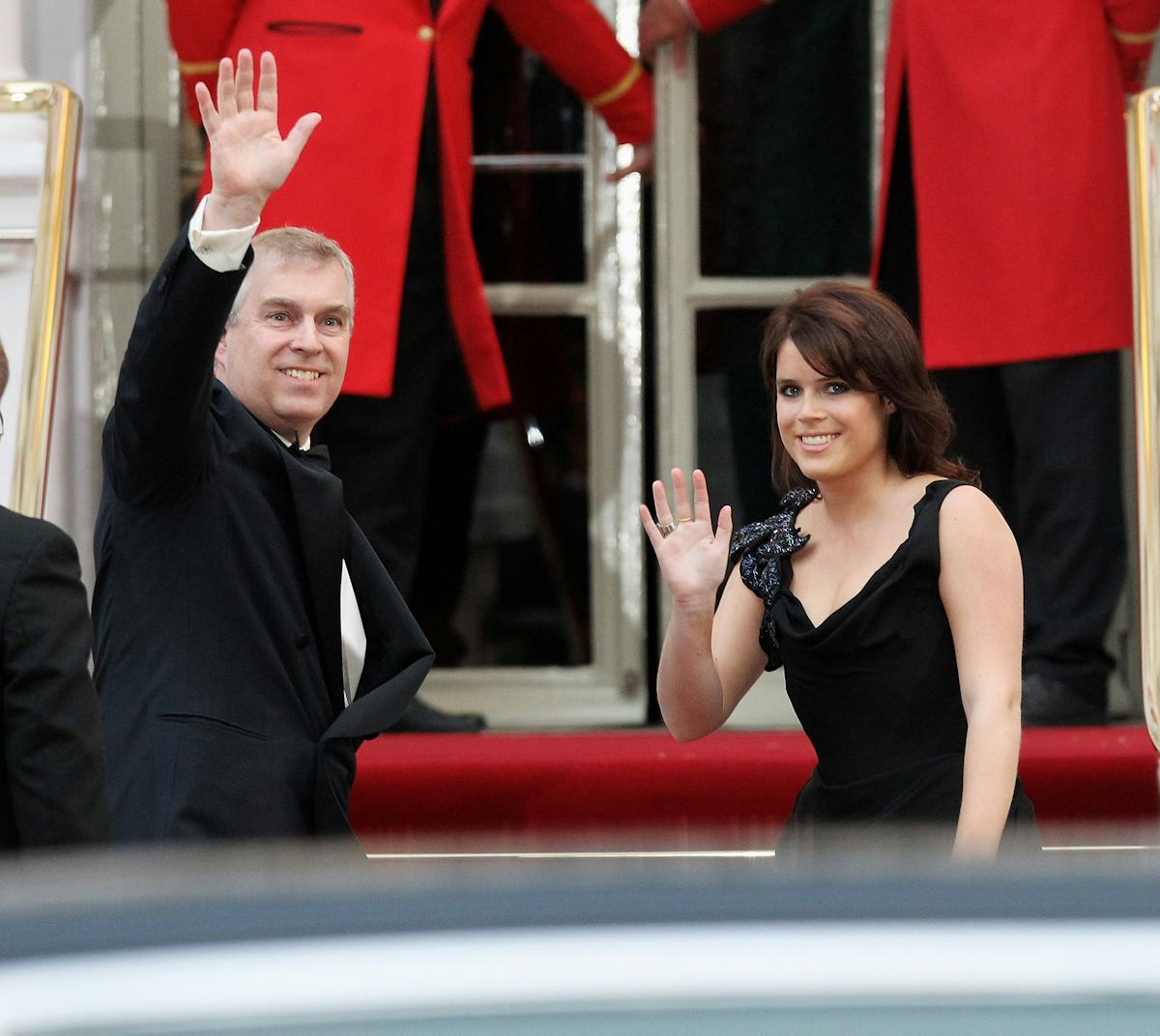 Here's The Royal Family Member That Will Likely Walk Princess Eugenie Down The Aisle
Chris Jackson/Getty Images Entertainment/Getty Images
In case you haven't heard, Princess Eugenie is set to marry her longtime boyfriend, fiancé Jack Brooksbank, on Friday, Oct. 12 at St George's Chapel, Windsor Castle. Details have been trickling in about the affair, but there's one thing that still remains to be seen: Who will walk Princess Eugenie down the aisle? Kate Middleton's father walked her down the aisle to marry Prince William, Meghan Markle walked herself down the aisle before meeting with Prince Charles for the final steps to marry Prince Harry — so where does that leave Princess Eugenie? Well, it looks like she might be sticking with tradition and having her father, Prince Andrew, walk her down the aisle and give her away to Jack Brooksbank.
According to The Sun, it's likely that Prince Andrew will take on the traditional role, given the fact that the father and daughter are incredibly close to each other.
In an interview with Harper's Bazaar back in 2016, Princess Eugenie talked about the importance of her family. "What can't I live without? My family," she said, adding, "That sounds cheesy, but I really can't ... My father as well. He's the rock."
It also looks like, in additional to walking Princess Eugenie down the aisle, he may be giving a speech at the wedding reception, since it's traditional for the father of the bride to do so. And, while I'm not invited to the wedding (I had plans already scheduled anyway, OK?), I will undoubtedly be raising a glass from my couch.
Cheers, mates.
It's also been reported that Princess Eugenie and Jack Brooksbank have announced their wedding party. According to E! News, it was revealed on Wednesday, Oct. 10, that two of Prince William and Kate Middleton's children, 5-year-old Prince George and 3-year-old Princess Charlotte, will each have a role in the wedding party as a page boy and a bridesmaid, respectively.
It was also revealed that second cousins Savannah Philips and Isla Philips will also be bridesmaids, as well as Maud Windsor, who is Princess Eugenie's 5-year-old goddaughter, and that "Mia Tindall, the 4-year-old daughter of Queen Elizabeth II's' granddaughter Zara Tindall, will perform the duty as will 6-year-old Theodora Williams. Louis de Givenchy, 6, will also join George as page boy."
In addition, Lady Louise Mountbatten-Windsor, 14, and Viscount Severn, 10, "will serve as special attendants," and Princess Eugenie's sister, Princess Beatrice, will be her maid of honor, which I totally called.
But don't worry, Jack Brooksbank's family is included too: Thomas, Jack's brother, will serve as his best man.
Clearly, this wedding is going to be one for the books. The ceremony is anticipated to be similar to Prince Harry and Meghan Markle's, with an open-carriage procession, and they are expecting about 500 guests in attendance, as well as certain members of the public who were invited to watch the nuptials go down. If you didn't get your invite either and want to stream Princess Eugenie's wedding, you've got a few options, since TLC will now be broadcasting the whole thing live.
Now, if you'll excuse me, I'm going to go re-watch all of the previous royal weddings to get prepped for Oct. 12. Cheerio, dahlings!