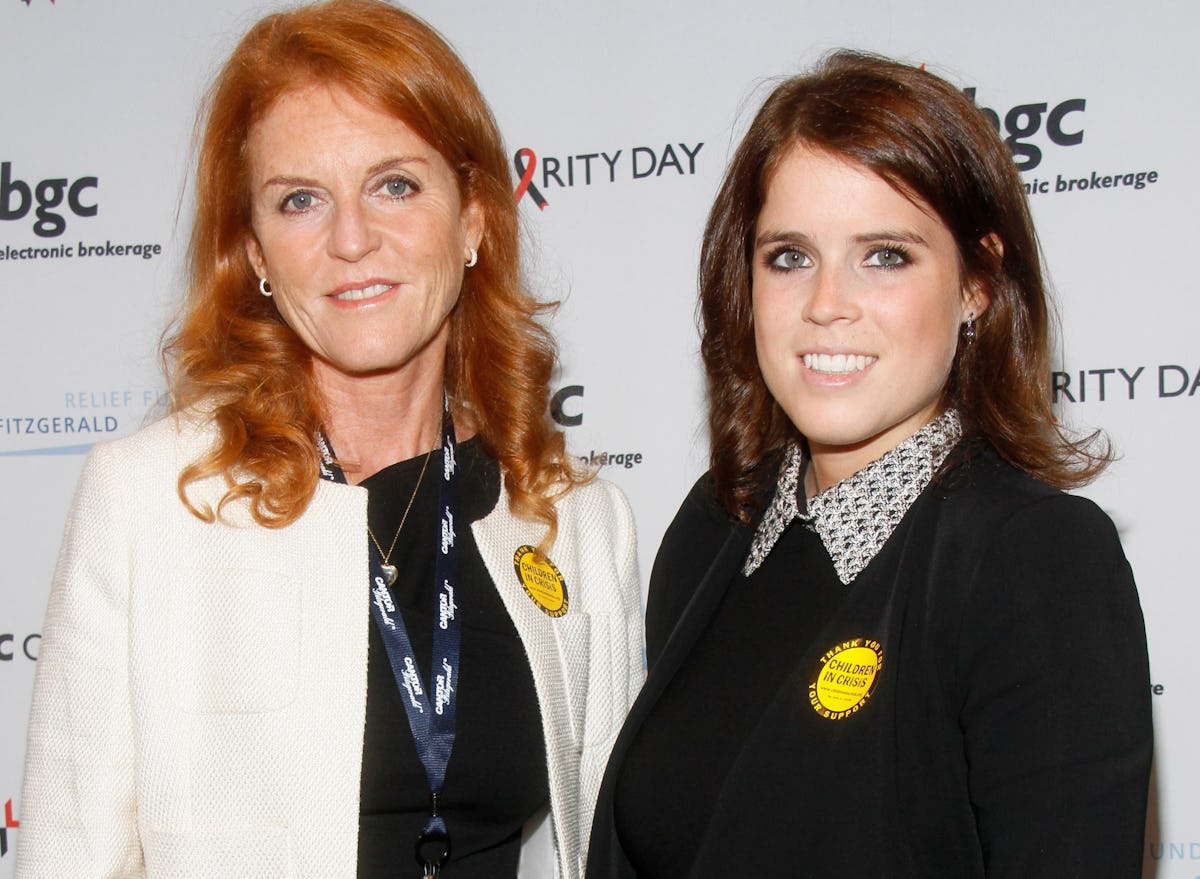 Princess Eugenie's Mom Was Low-Key On This Fan-Favorite Episode Of 'Friends'
Janette Pellegrini/Getty Images Entertainment/Getty Images
It'll be a royal family affair when Princess Eugenie marries Jack Brooksbank on Oct. 12 at Windsor Castle's St. George's Chapel. Even if you're not too familiar with Queen Elizabeth II's granddaughter, you've probably spotted her mother Sarah Ferguson, Duchess of York, more times than you realized. After her marriage ended in the late '90s, the Duchess certainly wasn't on a break when she contributed to one of the best sitcom plots ever. Princess Eugenie's mom was on Friends, so keep an eye out for Joey Tribbiani crashing Eugenie and Jack's wedding.
A slightly controversial figure in the royal family, the Duchess, commonly known as Fergie, stirred some drama leading up to and following her 1996 divorce from Eugenie's father Prince Andrew. Over the years, her struggles with debt have been publicized, and she's been caught in her fair share of embarrassing tabloid photos. While she caused some strife in the United Kingdom, Sarah became popular in the U.S. for her partnership with Weight Watchers, and when Friends found itself filming its Season 4 finale on location in London, the show couldn't pass on including Fergie's rising star in its iconic episode.
Airing in May 1998, the two-part finale, "The One with Ross's Wedding," began with the guys and Monica traveling to London for Ross and Emily's wedding. Rachel and a pregnant Phoebe stayed behind, but when she realized she still loved Ross, Rachel arrived in the U.K. just in time to see Ross say her name rather than Emily's in his wedding vows. Welp, we all know how that turned out, but before wedding day blues set in, Joey (Matt LeBlanc) had a spontaneous brush with royalty — cue Fergie!
After clashing with Chandler (Matthew Perry) while sightseeing, Joey played tourist on his own. When the men later reconciled, Joey whipped out his video camera to show himself with the Duchess, who sent Chandler a personalized hello and gave Joey's obnoxious hat her approval. You can catch her appearance around the 2:50 mark in the video below.
In a world before one of the newest royals came straight from the acting industry, catching a member of the monarchy on one of TV's most popular sitcoms was definitely an unexpected treat. Sarah's probably not popping up on another American TV series anytime soon, but royal wedding enthusiasts can likely catch her in a prominent spot during Eugenie and Jack's ceremony.
Although the Duchess sat separately from the rest of the immediate royal family at Prince Harry and Meghan Markle's wedding earlier this year, Eugenie's fiancé Jack stayed by her side before the ceremony. Sarah clearly approves of her future son-in-law, so she deserves her shining moment as the mother of the bride. Since her divorce, she hasn't been an official member of the royal family, but it'll be interesting to see her reunite with the whole crew at Windsor Castle to support Eugenie and Jack. Meanwhile, I'll keep my fingers crossed for a sneaky nod to her role in one of London's more ill-fated weddings on Friends.
Princess Eugenie's wedding will be streamed live on Friday, Oct. 12, at 4:25 a.m. ET on TLC. The network will rebroadcast the footage beginning at 7:25 a.m. ET.