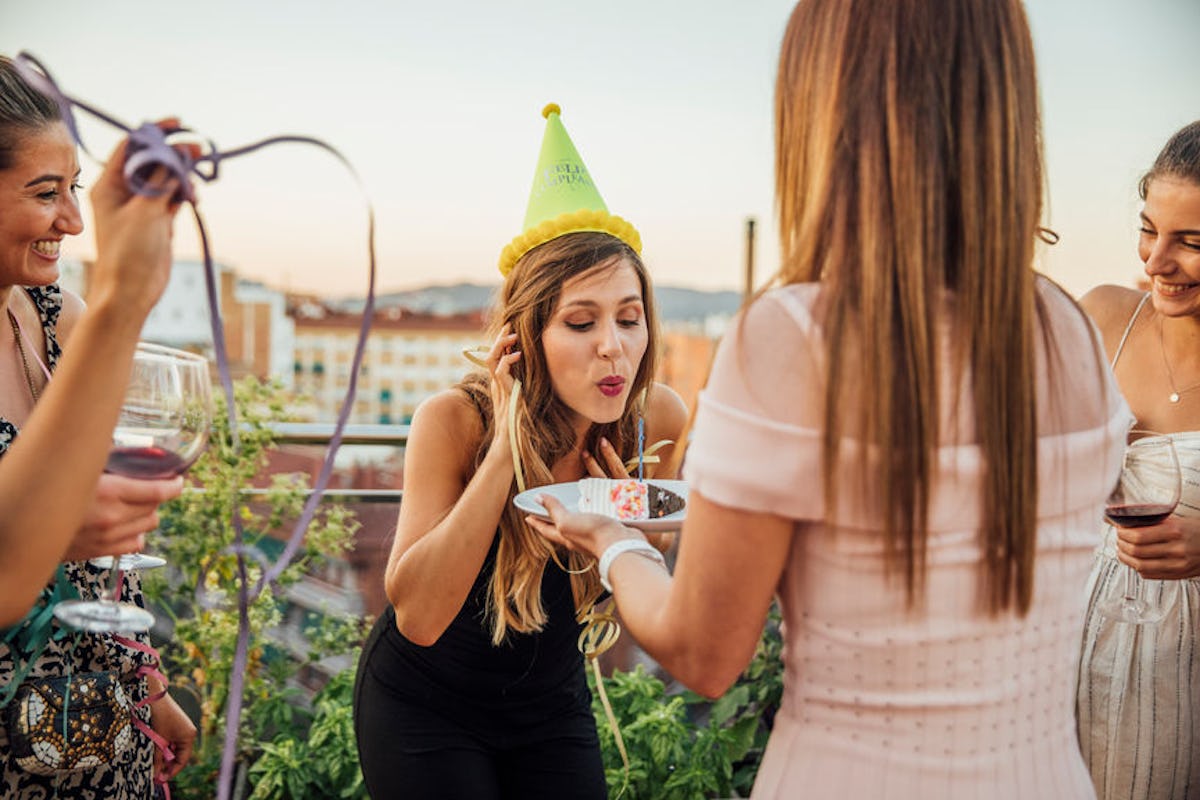 20 Funny Captions For Your Bestie's Birthday That'll Make Her LOL
Your best friend's birthday is practically a holiday, according to your calendar. It's the day your partner in crime was born, and you don't even want to imagine a world without her in it. You started the countdown six months ago, but funny captions for your best friend's birthday should come to you instantaneously.
Together, you guys are pretty darn hilarious. Combine your inside jokes, funny (but cringe-worthy) moments, and assemble a clever birthday caption she'll never forget. I mean, are you ladies ever really that serious? Exactly.
It doesn't at matter what point your best friend entered your life — you know she's in it for the long haul. You're not opposed to a day all about the awesome lady in your immediate circle, because any time with her is epic. (To be honest, your stomach still hurts from the last time you guys were together and the laughter was all too real.)
Are you planning a surprise birthday party for your girl? Let your comical caption be the first unexpected thing she gets when the clock strikes midnight. (Yes, you're that punctual for your bestie.) She will have so much to smile about on her birthday, but any of these 20 captions will have her cheesin' the hardest.
1. "You don't get older. You simply level up." — Unknown
2. "Today's the day you prove that life really is a piece of cake." — Unknown
3. "Happy Birthday. We will be the old ladies causing trouble in the nursing home someday." — Unknown
4. "Go shorty, it's your birthday. We're gonna party like it's your birthday." — 50 Cent, "Go Shorty, It's Your Birthday"
5. "Is that a gray hair? Kidding! Happy birthday." — Unknown
6. "You may be turning another year older, but we'll be big kids forever." — Unknown
7. "Awe, look at you getting old and sh*t." — Unknown
8. "Happy Birthday. I hope you're ready to party... let's cut it out by 9 p.m., though." — Unknown
9. "I'm here for the ups and the downs, although you know I hate roller coasters. Happy Birthday!" — Unknown
10. "Where did the time go? Oh yeah, your age took it. Love ya!" — Unknown
11. "Sharing is caring, so hand over some of that birthday cake." — Unknown
12. "It's your birthday, I'm broke AF, but who needs riches when it comes to us?" — Unknown
13. "On your birthday, I want to let you know that you'll always be my favorite cup of tea... but for now, let's pop the champagne." — Unknown
14. "Do you prefer sourdough, wheat, or white for your birthday toast? I'm kidding. Get the glasses." — Unknown
15. "It's scientifically proven that people who have more birthdays live longer. You're special." — Unknown
16. "Today is your birthday, so in my world, you're basically Beyoncé . Where's Jay at?" — Unknown
17. "We're practically the same person, so it sort of feels like my birthday, too." — Unknown
18. "I almost sent you a real birthday card, but thankfully my internet connection came back." — Unknown
19. "Happy birthday to one of the only people whose birthday I can remember without a Facebook reminder." — Unknown
20. "I'd tell you to wear your birthday best, but it'll probably include clothes of mine you're still 'borrowing'." — Unknown
Your bestie should be surrounded by so much love on her birthday. You're so up for the task of making her feel beyond special.