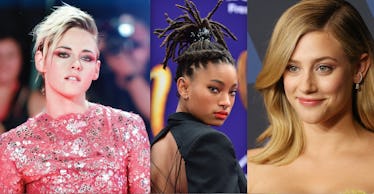 19 Super Inspiring LGBTQ+ Celebrities' Quotes About Sexuality
Laurent KOFFEL/Gamma-Rapho/Getty Images, Rich Fury/Getty Images Entertainment/Getty Images, Michael Tran/FilmMagic/Getty Images
Coming out can be empowering, emotional, confusing, invigorating, stressful, and everything in between. Needless to say, while it's definitely a milestone moment, it isn't always easy — including for stars, who are tasked with commenting on their sexuality in front of the entire world. However, celebrity representation in the LGBTQ+ community can certainly help many fans to own their own identities. That's what makes the many LGBTQ+ celebrity quotes about sexuality so beautiful — and so important.
Unfortunately, many stars have faced immense pressure to clarify their sexuality in interviews and on social media. A probing question from a journalist, comments from curious IG followers, or speculative headlines may force them to speak their truth while they're still very much on a journey of self-discovery.
Meanwhile, other stars have been open about their sexuality in a variety of contexts and occasions. The lesson here? It's up to each individual person to decide when, where, and how to come out — and to whom, because there's no right or wrong way to go about talking about your sexuality.
For some celebs, though, speaking candidly about their sexuality seems to have been an important step on their journey to self-acceptance. Alas, here are a handful of quotes you'll want to re-read again and again, whenever you need a reminder that love is love.