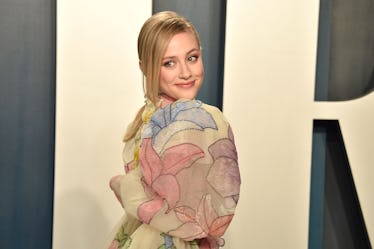 Lili Reinhart Came Out As Bisexual Before Joining An LGBTQ Black Lives Matter Protest
David Crotty/Patrick McMullan/Getty Images
Pride Month kicked off on June 1, and per usual, it's a time for celebrities to use their platform to support the LGBTQ+ community. But following the killing of George Floyd by the Minneapolis police on May 25, the LGBTQ+ community is standing in solidarity with the Black Lives Matter movement by protesting unchecked police brutality and demanding justice. Riverdale's Lili Reinhart revealed she's not only supporting the LGBTQ+ community's protest, but that she's also a part of it. Yep, on the same day she bravely joined Black Lives Matters protests in Los Angeles, Lili Reinhart came out as bisexual.
Reinhart shared her message to Instagram on June 3, along with a poster promoting a Los Angeles protest set to be held the same day. "Although I've never announced it publicly before, I am a proud bisexual woman. And I will be joining this protest today," she wrote. "Come join."
The graphic showed that the protest would consist of a peaceful walk in support of Black Lives Matter, and would be backed by the LGBTQ+ community. Reinhart's post urged attendees to send "signs of love and support." You can see her Instagram post your yourself below.
Reinhart's decision to publicly come out as bisexual arrives just over a week after she and Cole Sprouse called it quits. The news of the split hit the internet on May 25, though reports claimed they'd already been separated for months. At the time, Elite Daily reached out to reps of both stars for comment.
In addition to posting about her protest plans, Reinhart has been a strong advocate for the Black Lives Matter movement, urging fans to support black-owned restaurants and encouraging them to reach out to local representatives.
She also participated in #BlackoutTuesday, posting a single black square to her Instagram page in a show of solidarity.
As a bisexual woman, Reinhart is proud to join her community in protesting racial injustice. "We stand with you," one part of her flyer read.