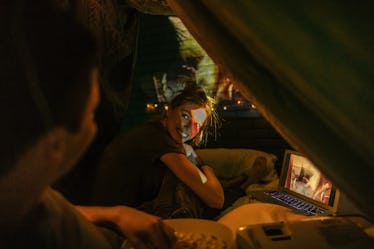 18 Ways To Cheer Up Your Partner During The Coronavirus Outbreak
To say social distancing is tough would be a gross understatement. When you're unable to visit your office, your campus, your friends' homes, and your favorite bars and restaurants, it's natural to feel a bit down — especially if the coronavirus outbreak is keeping you from seeing your partner as well. And sometimes, staying hunkered down in a 600-square-foot apartment with your boo can put even more of a strain on your relationship. Supporting your loved ones is more important than ever right now, and if you're looking for ways to cheer up your partner during the coronavirus outbreak, then I have some suggestions that are sure to lift their spirits.
Whether you haven't been able to see each other in person for weeks or you're the only person your partner has seen in weeks, dating while social distancing means getting creative. After all, you can only watch so many true crime documentaries together (though IMO, true crime docs are always a good idea). From surprising them with a useful subscription gift to planning a fun indoor date night, I've rounded up some ideas that will put a smile on your partner's face. The best part: making your SO happy will likely improve your mood as well.