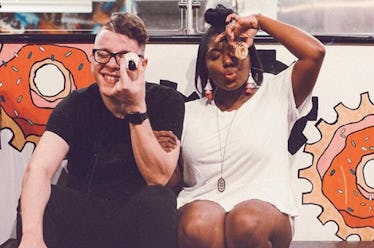 18 Instagram Influencers To Follow Who Are #RelationshipGoals
To say that Instagram transformed what an "ideal" relationship looks like is an understatement. Nowadays, every romantic gesture, getaway, and date night poses an opportunity to post a pic and brag about your boo (provided you can come up with the perfect caption, of course). But Instagram is more than a channel to boast about your bond — it's also brimming with couples who can serve as examples to follow. There are a ton of Instagram influencers to follow who are #RelationshipGoals in every sense of the term.
But what does that look like, anyway? It's so much more than an endless stream of flawless couple pics. Ultimately, #RelationshipGoals is about growing and evolving together, boldly admitting to your imperfections and promising to do better, supporting each other's every move, and celebrating each other's achievements like they're your own. That's what these all-star couples do on the 'gram, and so much more.
These accounts span a wide range of industries, themes, and perspectives — from a bionic lesbian dating and sex columnist, to an unapologetically geeky beauty blogger, and an inspiring Paralympic athlete. The one thing they have in common? Adorable relationships that are bound to inspire you to love more fiercely and cherish every second with your partner. Take notes, fam.