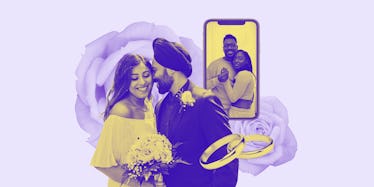 These 18 Quarantine Wedding Stories Prove Love Conquers All
Design: Elite Daily
Couples who intended to tie the knot in 2020 may have planned their weddings right down to the last detail — from the floral arrangements and the fun DJ's playlist to the seating chart and the signature cocktail menu. What they couldn't have planned for, however, was the coronavirus. Social distancing requirements may have forced spouses-to-be to get a little creative with their nuptials, but as the countless quarantine wedding stories show, love really does conquer all — even a global pandemic.
There's no doubt that this dramatic shift in circumstances meant many disappointments for engaged couples. Some had to consider a change in venue, rethink how food and drink were served, and even significantly cut down guest lists or pivot to a virtual ceremony to ensure the safety of everyone present. But as they say, when life gives you lemons, you make lemonade — or in this case, a bottle of luxury champagne. And that's precisely what many couples did. They went back to the drawing board, reconsidered what really mattered, and planned a smaller, safer wedding (on a short timeline, no less) that felt equally special.
So, let's all raise a glass to these flexible, resourceful couples who were determined to enjoy their big day — despite the less-than-ideal circumstances.