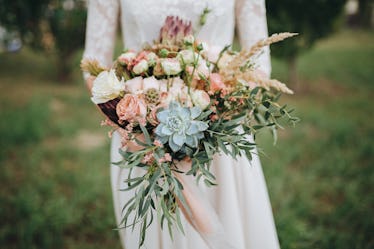 10 Photos Of Weddings That Were So Simple & Beautiful
Alex Gukalov/Shutterstock
When you think about weddings, "simple" probably isn't the first word that comes to mind. There's a certain extravagance that is associated with these events, but the reality is, some of the most elegant weddings are the effortless ones. And there are plenty of photos of simple and beautiful weddings to prove it — which can serve as a much-needed reminder that there's no need to go over the top.
Recently, my boyfriend turned to me and said woefully, "How are we ever going to have a wedding?" It was a legitimate question. Both of us are painfully aware of how much the costs for a reception can add up, between the venue, catering, flowers, DJ, photographer, etc. In fact, according to the Brides American Wedding Study, the average wedding set couples back more than $44,000 in 2018 — which is quite a jump from $27,000 in 2017,
But here's the thing: weddings don't have to be lavish — nor do they have to break the bank. There are so many ways to simplify the whole shebang, whether it means doing DIY decor, hiring a friend's band to play music, or having the whole affair in your parents' backyard.
That's why I'm in awe of these particular weddings — they're stunning in their simplicity, thus demonstrating that your big day doesn't need glitz and glamour to be memorable.