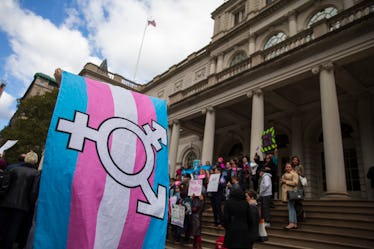 These 9 Trans Activists Are Fighting For Equality & Representation
Drew Angerer/Getty Images News/Getty Images
The last day of March marks an important international day: Transgender Day of Visibility. According to the Human Rights Campaign, Transgender Day of Visibility is is both a time to celebrate transgender people around the world and the courage it takes to live authentically, as well as a time to raise awareness about the discrimination and violence transgender people still face everyday across the globe. In honor of this annual day, here are nine trans rights activists you should know about, whose contributions in their respective fields are pushing the envelope, changing how the world talks about transgender and non-binary folks, and centering transgender narratives.
But first, a little about Transgender Day of Visibility. A transgender individual is someone whose gender identity doesn't align with the sex they were assigned at birth. According Them, an online LGBTQ-focused magazine, Transgender Day of Visibility was established a decade ago by trans activist Rachel Crandall. A youth-led organization called Trans Student Educational Resources notes that the day "aims to bring attention to the accomplishments of trans people around the globe while fighting cissexism and transphobia by spreading knowledge of the trans community." The organization also has an infographic showing why trans people need more visibility and what happens when communities don't have visibility or representation, like bullying at school, job discrimination, partner violence, and a lack of mental health resources.
Here are nine trans and non-binary activists whose work you should know on this important day.