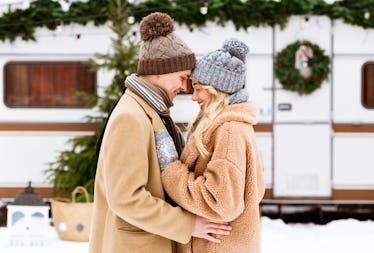 16 Un-brrr-lieveable Outdoor Winter Dates To Try During The Pandemic
Shutterstock
Baby, it's cold AF outside. But guess what? That doesn't mean you can't plan a super cute, Instagram-worthy date. While you may be longing for romantic picnics, pool days, and other warm-weather activities, the truth is that there are so many outdoor winter dates to try during the pandemic that are equally fun and romantic. The best part is, most of them are pretty budget-friendly, too — so you can let your wallet recover after all that holiday shopping.
The Centers for Disease Control & Prevention still maintain its health and safety guidelines for slowing the spread of the coronavirus, which include avoiding hanging out in indoor spaces as much as possible (especially those that aren't well ventilated). In part, this is because it's much harder to stay 6 feet apart while indoors. This is both to protect you and your partner, as well as those around you, since COVID-19 can be easily spread by people who don't have symptoms, and therefore, don't even know that they're infected.
One easy way to reduce your risk of contracting or transmitting the virus this winter is to plan outdoor dates — which allow you to enjoy some QT while also staying safe. So, don your warmest coat and gloves, and get ready to make the most of the chilly season with these easy peasy ideas.