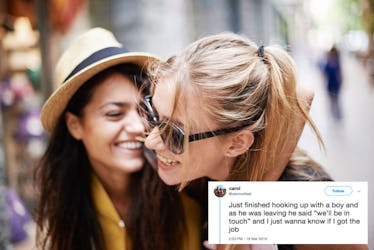 15 Tweets That Sum Up Casual Dating In 2019, Because It Can Be Tough Out There
I know, I know — you probably didn't come here to read another complaint about how dating is "worse than it's ever been." That's a bit of an exaggeration. But seriously, y'all, it's tough out there! Even if you aren't looking for anything serious, sometimes it feels like it takes more effort than it's worth to meet someone you vibe with. These tweets about casual dating will remind you that no matter how hard it is, you're not in this alone.
Whether it's ghosting, submarining, or orbiting (seriously, how many different terms are there?!), dating phenomena in 2019 aren't easy to navigate. It's stressful enough just waiting for that new potential boo to text you back. Since I moved across the country two years ago and settled into a new city, I knew I wanted to dive into the casual dating world to get acquainted with the social scene. It was my first real foray into dating apps, and I can't lie, I was excited. But when I actually started swiping and chatting with matches, I learned that dating can often be a real headache. Why is it so hard to transition a conversation from an app to an IRL date? How do you handle it when you don't want to see someone again? What happens when you start juggling multiple new relationships at once?
These folks on Twitter know exactly how I feel. Read on for some serious laughs about the struggles of trying to date casually in 2019.