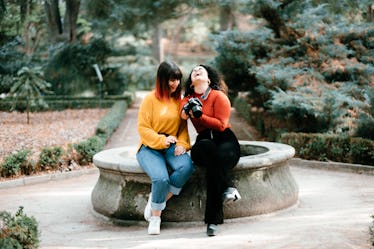 ​9 Reasons Casual Dating Is Amazing, Because Meeting New People Is Half The Fun
I've often felt like casual dating is the best of both worlds (in fact, I think it's what that Hannah Montana song was about). I get to spend time with someone I really like, but I also don't have any obligation to rearrange my life around theirs. Sure, it depends on the person and the relationship, but sometimes casual dating can be the right move. I often see characters represented in the media who are solely focused on getting their partners to commit to them, but that doesn't do justice to the many reasons casual dating is amazing.
Depending on the life-phase you're in, you might be looking for a different level of commitment. Maybe you just got a big assignment at work, and you're looking for someone to see once a week or so, but not every night. Maybe you're trying to date multiple people at once. Maybe you have the time, but the person you're seeing isn't someone you want to get serious with. As long as you're open with your partner about where the relationship stands and they're on board (it's called a relation-ship for a reason, not a relation-capsize), casual dating can be totally great! It can be even better than great, actually. It can be completely amazing.
Casual dating is different for everyone, but it typically means a less serious relationship where you're not committed to your partner. Read on for nine reasons why casual dating can be the most fun ever.