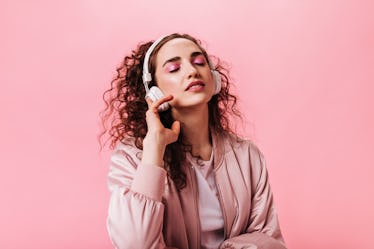 15 Songs To Listen To On Your Ex's Wedding Day To Feel Good As Heck
Shutterstock
So, your ex is getting married. First thing's first — take a deep breath. Now, repeat after me: "I will get through today." Watching someone you dated move on may not be easy, but it can be even more heart-wrenching when they're saying "I do" to a lifetime with someone else. And that's why you need a killer playlist to get you through. But which tracks should you be blasting? The songs to listen to on your ex's wedding day will not only explore the wide range of emotions you're likely experiencing, but also remind you that you're going to be just fine. Bonus points if they make you feel like a BAMF who's actually better off without them.
I often think about how much easier it probably was to move on after a breakup when my parents were growing up. After ending a relationship with someone, they weren't flooded with constant reminders of their exes via Instagram feeds, Snapchat stories, and Facebook posts (curse you, Timehop). It can be emotionally exhausting, to say the least. And regardless of how you found out, discovering that your former flame is getting married can trigger a rollercoaster of complicated feelings, from pangs of longing and sadness to confusion and even anger.
That's where these songs come in — each one has a relevant message that may help you get through this difficult day with your head held high.