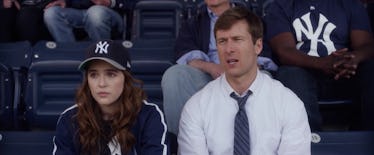 15 Quotes From 'Set It Up' On Netflix That Prove It's The Best Rom-Com For Girls' Night
Netflix
Some of us really wish it were as easy as "me plus you." But, your favorite romantic comedies constantly remind you that there are a lot of laughs, good cries, and some heartbreaks in between now and finding your happily ever after. You may end up with someone you never expected, or have to travel forward in time to when you're 28 to realize what's meant to be. Oh goodness, love can really be a whirlwind, but that seemingly never stops you from falling for it over and over again. These quotes from Set It Up on Netflix will prove that this new movie is the best rom-com for your upcoming girls' night. So, read up and then pop that popcorn ASAP.
This brand new film from Netflix stars Zoey Deutch, Glen Powell, Lucy Liu, and Taye Diggs. When I first watched the trailer, it caught my attention and feels right away. The main characters are two assistants to bosses who they're trying to get together, in hopes that it'll make their own lives a little less miserable. The rest is an adventure of love in New York City that we all need to watch, and I won't give away any crucial spoilers
Romantic comedies are truly my guilty pleasure, and I could probably recite to you every single line from Mamma Mia! or Forgetting Sarah Marshall. I've watched Clueless a thousand times, solely for Cher's outfits, and I crush on Ryan Gosling every time in Crazy, Stupid, Love. So, when the little teaser I got of this flick reminded me of The Devil Wears Prada and The Parent Trap combined, you can best believe I texted my girl crew and started making some movie night plans. This weekend, you'll want to snuggle up with your day ones and watch Set It Up, too. These 15 quotes will surely have you convinced.
1. "There's no pizza on this roof, so I have to go."
2. "'Are you okay?' 'I'm fine.' 'No, I'm talking to my pizza.'"
3. "I wish that [pizza] box was my bed."
4. "A lot of men proposed to me in my twenties. I could be thrice divorced by now."
5. "I need that food."
6. "'You aren't letting me win to boost my ego? Are you?' 'I wanna destroy you.'"
7. "One is a beautiful woman with dark hair and a fierceness that's both scary and inspiring. The other is a guy."
8. "Kiss! Kiss! It's the law!"
9. "Of course your first draft is going to be bad. It's gonna be terrible. Then you know what you do, Harper? You go back and make it better. But you can't make it better until you actually do it."
10. "This is where Kim threw Kanye's half-birthday party."
11. "That aforementioned pickle? That wasn't for my boss. That was for me."
12. "The best meal I've ever had was a five dollar pizza thrown up a fire escape."
13. "Leave this place and never return."
14. "That's the dumbest thing I've ever heard. That is not a real thing."
15. "Oh my god! We're not old enough to get married."
Honestly, any movie that revolves around relationships, living in NYC, and pizza sounds like something I want in my life. After all, I'll probably be ordering a couple of boxes with my girls when we watch Set It Up, anyway. We'll have slices of cheese in our hands, and spend hours talking about our dating lives. Over the years, we've learned a lot of lessons about love together.
If you're anything like me, you've probably taken most of your cues about relationships from the movies and sitcoms, too. You've even considered making travel plans based on your favorite romantic comedies this summer, in hopes that you'll fall in love right where The Holiday was filmed. You'll watch this movie, and start looking for those unexpected love stories in your own life.
One day, you'll find your happily ever after. So, put some faith in the universe that everything will happen the way it's supposed to, and gather your crew for some Netflix. This rom-com is surely going to be your new go-to with the girls.