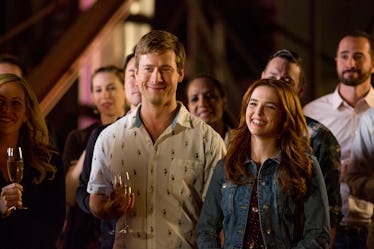 Netflix's Newest Rom Com 'Set It Up' Is Perfect For Your Summer Movie Night
Netflix
Call it the rom-com renaissance, because romantic comedies are officially back, and you have Netflix to thank. In the last few months, Netflix has put out a slew of original romantic comedies, but none are as amazing as Set It Up, the platform's newest film. What is Set It Up about? The Netflix Original movie will give you serious classic rom-com vibes, making it perfect for your next summer movie night. I promise, you can watch Never Been Kissed for the millionth time next weekend.
Glen Powell and Zoey Deutch star as Charlie and Harper, two Devil Wears Prada-style assistants who spend their entire lives slaving away for their high-powered bosses, Kirsten and Rick (Lucy Liu and Taye Diggs). After a meet-cute in the lobby of a New York City office building — over a Seamless delivery, because this is 2018 — the two decide that the only way to make their lives better is to set up their lonely, sexually-deprived bosses (hence the title). As Harper and Charlie attempt to get their bosses to fall in love by massaging their schedules, sending flowers, and writing over-the-top notes, the two spend more time together, and... fall in love themselves. Did I mention this is a romantic comedy?
On the surface level, Charlie and Harper just want some free time, but as the movie progresses, they become more complicated. Harper dreams of being an award-winning sportswriter like Kirsten, but she's afraid that she's spent so long being an assistant that she's lost her ability to write. Charlie, on the other hand, wants to spend time with his model girlfriend and is obsessed with living Rick's glamorous (yet sleazy) lifestyle. These two are just different enough that it works: Harper thinks she's bound for failure and Charlie thinks he's destined for greatness, so they're able to lift each other up (or call the other out on their BS) when it matters. Oh, and it doesn't hurt Powell and Deutch are both great to look at, either.
On top of all this romantic comedy goodness, Set It Up is just straight-up hilarious. I basically died during a scene in which Charlie and Harper's attempt to get their bosses to meet goes disastrously wrong. I'm talking disastrous: Rick and Kirsten get stuck in an elevator (good), but there's a delivery man in there too, and he's very, very claustrophobic (bad). I won't spoil anything, but just know that Tituss Burgess makes an appearance in this scene as a guy known as "Creepy Tim," and that by the end, one person is completely naked.
Admit it, you're kind of intrigued, right?
Burgess isn't the only famous face that makes an appearance in Set It Up. Pete Davidson (yeah, Ariana Grande's fiancé) stars as Duncan, Charlie's openly gay roommate. Throughout the movie, Charlie jokes about Duncan's promiscuity, but in the film's pivotal scene, Duncan's Tinder-ing proves useful when Charlie and Harper are forced to find an alternative entrance to the apartment — and confront their feelings for each other in the process.
After Harper leaves her roommate's engagement party because "there's no pizza on this roof" (#relatable), she and Charlie find a pie and climb up his fire escape into his bedroom. As they drunkenly shove slices into their mouths, the two share that classic rom-com moment in which they realize that they have feelings for each other. Honestly, how can you not catch feelings for Powell as he sits there with pizza grease all over his face? The scene is beyond sweet, and it will give you the same butterfly feelings you get when Emma Stone walks through a rain storm to meet Ryan Gosling in Crazy Stupid Love. That's a high bar, so you know Set It Up must be good.
Set It Up is soapy and fun and hilarious — everything you need for your next movie night. Fill up your hoodie with popcorn and crack open some rosé, because you're about to fall in love with a brand new rom-com.