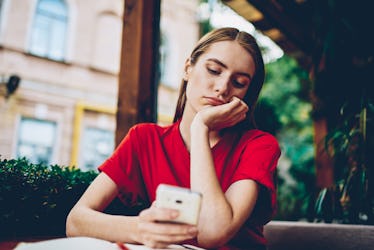 Going Through A Breakup? Here Are 14 Mental Health Resources To Turn To
Shutterstock
You can never have too much help when you're healing from a breakup. Hopefully, you have friends and family you feel like you can lean on. Perhaps you also have a job or hobbies you enjoy that provide a healthy distraction from the heartbreak. But when those just don't feel like enough — which can be the case for anyone — there are so many mental health resources to use after a breakup that can help you cope with overwhelming negative emotions, gain some much-needed hope about the future, and eventually, move on.
Depending on the circumstances around the relationship that ended and the breakup itself, you could be dealing with a wide range of emotions, including sadness, guilt, and anger. You may also be struggling with feelings of rejection, betrayal, confusion over what went wrong, or loneliness without your former partner's presence in your life. Researchers have found that when you're nursing a broken heart, the emotions you're experiencing can trigger activity in the same area of the brain associated with physical pain. Basically, breakups hurt — in more ways than one.
While everyone has their own tactics for mourning a relationship, sometimes you may need some extra help outside of your immediate support network — and that's where these resources come in. From post-breakup advice hotlines to meditation apps, all of these tools are designed with one aim in mind: helping you not only survive your split, but ultimately thrive in spite of it.