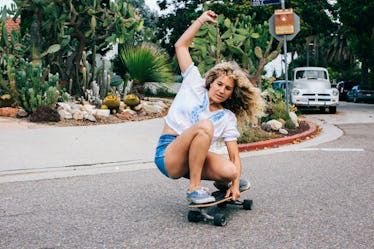 Here's Why You Should Wipe Your Social Slate Clean & Delete All Traces Of Boo After A Breakup
Is it possible to talk about healing after a breakup without Natasha Bedingfield's "Unwritten" playing in the background? Whether you're one day or six months post-breakup — a bop that reminds you to be open to the world of possibilities around you and of course, to feel the rain on your skin, is literally self-care. After cleaning up every physical reminder, dropping your ex's fav sweatshirt at Goodwill, and putting your sheets in the wash, it can be hard to know, should you delete all social media traces of your ex after a breakup?
The feelingless Capricorn, phone-skeptic, hippie-dad in me is pretty unyielding on this: When you've ended things, it's time to unfriend, unfollow, and unwind. If you need more convincing, you know my earth sign a*s did the research. I reached out to Dr. Gary Brown, a prominent dating and relationship expert in Los Angeles, about cutting yourself off from your ex's internet presence, and why it's important to wipe your social slate clean.
When asked directly if you should unfollow you ex on all social media, Dr. Brown's response is equally direct. "Absolutely yes, for at least 90 days. This will be hard but not as hard as trying to cling on to a relationship that is over. Unfollow, unfriend and block. I also recommend stop following newsfeeds of mutual friends for the same reason."
Going so far as to unfollow mutual friends as to not see what your ex-bae is doing, Dr. Brown attests there are many reasons to delete all traces of your boo, after your breakup.