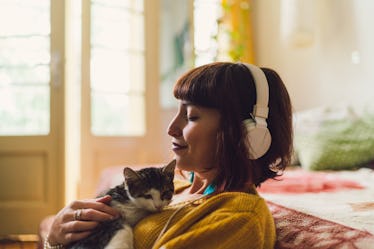 Download These 10 Meditation Apps For All The Good Vibes & Zen
martin-dm/E+/Getty Images
Sometimes, the stress that comes with your daily responsibilities, jam-packed schedule, or important work projects can be all too real. When you want to hit the refresh button, you might have a yoga routine that works wonders, or you may soak in the bath with a cup of tea and juicy read. You can also launch one of the best meditation apps on your phone.
These apps can bring zen into your life, and help you understand what's going on in your mind. With animated videos, calming sounds, and some guided exercises, they can ground you and give you helpful tools to use throughout your day. They may coach you on how to take a proper deep breath, or how to find peace at the beginning of your day, before having breakfast and brewing a hot cup of coffee. They may also ask what's going on in your life, and allow you to thoughtfully reflect on your friendships, relationships, and interactions.
These apps might be incredibly rejuvenating for you, especially if you pair them with a dose of sunshine or an afternoon of writing in a journal. Download them to experience some zen and maybe follow up your meditation session with a sweet yoga practice, too.