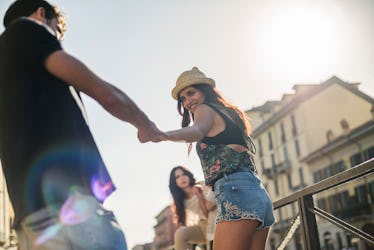 4 Things To Remember When You See Your Ex With Someone Else For The First Time
Picture this: You're a few months post breakup, and you're feeling good. You're not constantly crying anymore, you don't think about your ex every second of every day, and you might even be feeling ready to move on and redownload Bumble. But then, you see your ex with someone else for the first time, and it feels like all the healing you did just went down the drain. You may have felt ready to move on, but you probably weren't ready to see that your ex was already one step ahead of you. Chances are, you're going to feel a wide range of emotions, but according to experts, how you feel when you see them is a direct reflection of how your relationship ended.
"We all end relationships on different notes," Joshua Klapow, Ph.D., clinical psychologist and host of The Kurre and Klapow Show, tells Elite Daily. However, "over time, both individuals begin to establish their new paths. When we see our ex for the first time it is almost uniformly awkward. Old feelings arise: feelings of defensiveness, comparison, a desire to look and present 'well' all are common. And this is typical simply by seeing our ex. When our ex is with someone else, it throws an entirely new variable into the emotional equation, and it can cause a host of new and different emotions."
To cope with the emotions you're likely feeling after a run-in with your ex and their someone new, here are five things to remember about yourself and the relationship.