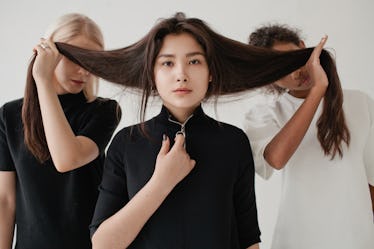 4 Signs Your Ex Is Dating Someone Else — So Thank You, Next
"I'm so f*cking grateful for my ex" is a sentiment that I personally #can'trelate to, but bless Ariana Grande for being the bigger person. For me, breakups end in making all of my friends tell me I'm pretty and that my ex is a toilet person. And god help me when I see my ex is dating again. From new couple pics, to no longer responding to your texts, there are many signs your ex is dating someone else, and they all can be pretty painful to discover.
Readjusting to being single is just that, a readjustment. Of course, there are some serious perks to being single, in the short and long run. For all the heartache, you gain independence and resilience. You don't need to share your snacks anymore. And you can take some much needed time to focus on you. It can take a long time to get over an ex, and there's no one way to do it. Nonetheless, seeing your ex-bae finding a new-bae can feel like a kick to the gut.
I spoke with Dr. Gary Brown, a prominent dating and couples therapist in Los Angeles, about the signs your ex is dating someone new, and how to establish some post-breakup boundaries, in order to slow down the heartache and speed up the healing.