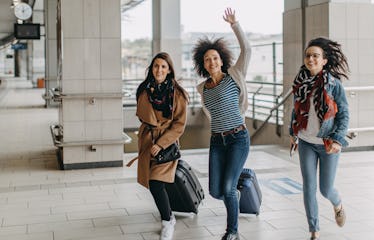 13 Relatable Tweets When You're Always Late To Everything & Can't Help It
supersizer/E+/Getty Images
Rushing through an airport or getting stuck in a long line at your local coffee shop may be a regular occurrence for you. Even when you're on time — coffee in hand and makeup on point — you still manage to lose to the clock and relate to the many tweets about running late.
You might end up messaging your boss something like, "Hi, I'll be a few minutes late to the meeting," or missing your flight and having to buy another plane ticket. You could do everything right: pick out your look the night before, wake up at 7 a.m. instead of 7:30 a.m., nudge yourself out of your cozy blankets, and grab a bagel at home. Somehow, you'll arrive at your destination at 9:05 a.m. instead of 9 a.m. Don't fret, though, because you're certainly not alone.
For that very reason, you've become a professional at being the last one to arrive at class and explaining why you're late. Without delay, you've managed to lay in bed a little longer on mornings when you don't have the extra time and pet your dog for an extra 15 minutes, too. Your habit of running late is also why you can relate to these tweets that'll seriously speak to your soul.