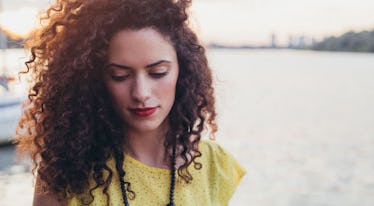 13 Song Lyrics About Relationships That'll Get You Through Your First Heartbreak
Music has a way of speaking to its listeners. Whether you jam out to rock, country, hip-hop, Latin, pop, or a little bit of everything, music makes its way into our hearts and gets us through anything, when it feels like nothing else can. The lyrics of your favorite classic rock song ("Bohemian Rhapsody" anyone?) or your go-to, sad country song can say all the right things at all the right times. And even when your relationship is going in all different directions, song lyrics about relationships often feed us more advice than any one person can.
Even though I listen to music regardless of how I'm feeling, I only really listen when I'm sad and need something to speak to me, not just something to fill my ears. Usually in the days leading up to a breakup and the days that follow, I find true meaning in lyrics. Breakups hurt. Whether you were the one doing the breaking up or the one being broken up with, each one tends to leave an ache — at least a little one. But, there's no breakup like your first breakup. That one often hurts the most. It's new. It's sad. It's lonely. In times of mourning and recovery, one of the things that can really push you to feel like yourself again is music. For each phase of your breakup, turn to these songs when you just need something more.