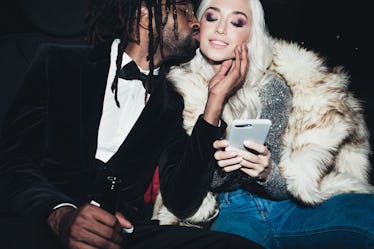 13 Romantic Quotes For Your New Year's Eve Instagram Captions To Start 2019 On The Right Foot
I like to show my love and devotion IRL, but as a true millennial, I also like to declare it on social media so that the whole world knows. The new year is almost here, and I hear 2019 is for lovers. So, if you want to show your followers your lovey-dovey side, you may be trying to brainstorm romantic quotes for your New Year's Eve 2019 Instagram captions.
I don't know about you, but sometimes I find myself with a killer IG photo, but I'm left scratching my head about the perfect caption. Even if your Instagram caption style is a little more on the low-key side, you can do a lot better than a simple #blessed. You might be head-over-heels in love or getting to know someone new, but believe it or not, you don't even need to be coupled up to embrace your romantic AF side this NYE. If your vibe is flirty, coy, suggestive, or sassy, play that up in person and on Instagram.
Would it even be New Year's Eve without a knockout Instagram post that reflects your #currentmood? IMO, no, it would not. Consider including one of these 13 sappy sayings with your IG post on December 31.