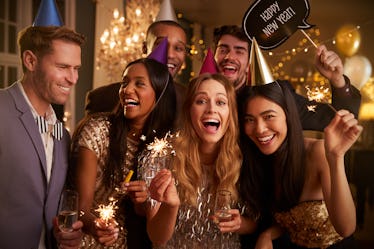 7 New Year's Eve Party Themes To Ring In The New Year With Style
You totally want to be ringing in the new year with style, and sometimes that means more than just your awesome party attire. If you happen to be throwing a New Year's Eve party this year, you should consider having a theme to it all. It immediately takes your regular NYE and kicks it up a notch. You can have all the necessities that come with a New Year's Eve party, like champagne, sparklers, and party hats; but with a special themed twist. It'll be fun, and there are a ton of super cool New Year's Eve party themes that you can choose from.
Your NYE totally sets the stage for an awesome year to come, so you definitely don't want to be the person who throws a boring party. You also don't have to stress about coming up with the theme on your own. You have enough on your plate as party host, so we got you covered with these seven New Year's Eve party themes that you can snag for yourself!
A good theme will immediately take your drab party and make it totally fab. You also don't have to go crazy with it, either. You can go all out with the theme you choose, or totally take it easy. No matter how you choose to celebrate, you know this will be the best NYE yet, and we hope you have a Happy New Year!