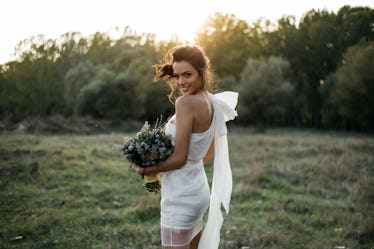 13 Reasons A Spring Wedding Is Right For You That Will Leave You Totally Sprung
If you live for peonies, your perfect palette is lights and neutrals, and your favorite cocktails span from floral to herbal — you may already have your reasons a spring wedding is right for you. Of course, if you're newly in the stages of wedding planning or if you're completely lost about when to plan your big day, there's a lot to consider when finding the perfect season for your wedding. "A number of factors play into selecting the perfect season for your wedding," Owner and Lead Planner, ofHummingbird Bridal and Events, Mandy Connor, tells Elite Daily. "Personal preference for temperature, foliage and attire may be the number one factor but of course, availability of venues and overall budget also play a large role in selecting the perfect season."
If you've found the perfect spring dress or your ideal menu includes spring produce — picking a spring wedding may fall into place around your personal preferences. And if you're clear on your budget and wedding location, choosing a season may come down to vender availability.
If you're still on the fence about when to tie the knot, here are 13 reasons a spring wedding could be right for you.