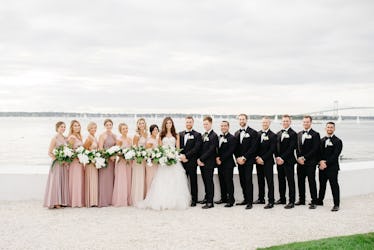 4 Reasons A Big Wedding Is Right For You, According To A Wedding Planner
Regardless of your romantic status, it's natural to daydream about your wedding guest list. Of course, if you're newly engaged and planning your wedding is beginning to seem like yet another unpaid internship you're working full-time at — choosing the right size for your wedding isn't always easy. When it comes to tying the knot, you get to do what feels right for you. And if you're stumped wondering," "should I have a big wedding?" It's important to remember that there's no one right way to have your wedding — whatever size it turns out to be.
"You have loads of options in how you craft your day," Owner and Lead Planner, of Hummingbird Bridal and Events, Mandy Connor, tells Elite Daily. "You can host a very intimate ceremony and then you can open up the reception to the larger group. Or you may decide to keep things intimate across the board with a ceremony and later, you can host a brunch or cocktail reception for the larger group."
Of course, if you want your day to be big across the board, that works too. Here are four reasons why going big on your special day could be right for you.