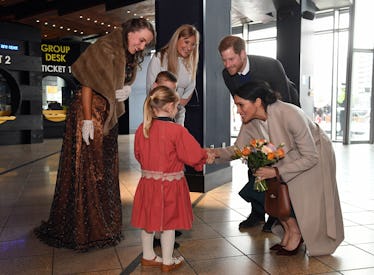 The Royal Wedding Schedule Of Events Will Make You Want To Cancel All Your Plans
Pool/Getty Images Entertainment/Getty Images
The calendar has reached May. It's finally spring, and if it's spring that means it's wedding season. This year, there is no bigger wedding on anyone's social calendar than the marriage of Prince Harry of Wales to Ms. Meghan Markle, taking place on Saturday, May 19, 2018. For fans of the UK royal family, especially those in the United States (where Ms. Markle hails from) this is a huge deal, and people will be making up at the crack of before dawn to see the festivities broadcast on TV. Here's the Royal Wedding schedule of events for the day of the ceremony so that everyone knows when and where stuff will go down.
Before we run down the schedule, there's that little matter of time zones to discuss. The schedule is printed in UK time, otherwise known as BST (British Standard Time). For those curious, that's one hour ahead of GMT (Greenwich Mean Time), which is the time zone from which all others are calculated.
The US east coast (EST) is 4 hours of behind of GMT
The US west coast (PST) is 3 hours behind that
So the UK is five hours ahead of EST and eight hours ahead of PST
Got it? Good.
Ceremony: Saturday, May 19 At St. George's Chapel, Windsor Castle
This is a big change from where Prince William of Wales and Kate Middleton got married. (Or Bill and Cathy Cambridge, as they're colloquially known now.) Since Bill is second in line after his father, he had to go all out and marry at Westminster Abbey like his grandmother Queen Elizabeth before him.
Middleton rode out in a golden carriage in a four-mile route from Kensington Palace to the Abbey, and then the newly wedded couple took a parade jaunt around to the Mall that leads to Buckingham Palace, where they stood on the famous balcony and did the big presentation kissing photos. (Prince Charles and Diana Spencer married in St. Paul's Cathedral, which is a slightly longer drive to and from Kensington and Buckingham Palaces, but this just meant longer carriage processions.)
Being all but out of contention for the throne now Cathy has had three children, Harry decided to opt out of all that nonsense. Windsor Castle is located in Berkshire, outside of London and St George's Cathedral is literally on the grounds. So there's no big golden carriage ride through London for them.
Service Begins at 12 noon (5 a.m. ET)
This is actually a little earlier than when Bill & Cathy got married, but that's partly because they're skipping all the pomp and circumstance and getting right down to the ceremony, which is scheduled to take an hour. William is confirmed to be Harry's Best Man.
Carriage Procession: 1 p.m. (6 a.m. ET)
Since there's no big fancy carriage rides in London, this is what fans are getting instead.
According to the schedule, the route is a loop around from behind Windsor around the front including:
Castle Hill
High Street
Sheet Street
Kings Road
Albert Road
Long Walk
Windsor Castle
Reception at St George's Hall
Technically this starts at 1 p.m., and Harry and Meghan arrive when they're good and ready to make an entrance. Don't expect some big balcony appearance though for a photo finish on the day: Windsor Castle doesn't have one. Still, Harry and Meghan know they have some die-hard fans, so there will most likely be some sort of substitute "kiss for the cameras" moment.
Evening: the Prince of Wales' Private Reception
Emphasis on private! The fact is, by this time, the 2018 FA Cup Final will be on televisions all over the UK anyway, and no one will be tuning in, so Charles gets to give a nice private party for his younger son to celebrate the last of his children finally getting married, with time to spare before London Bridge falls, and the monarchy undergoes the biggest transition since nearly 70 years.
Follow along with Elite Daily's coverage on all things Royal Wedding!