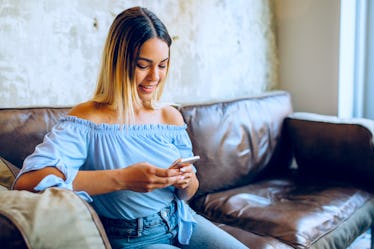 13 Dating-Themed Instagram Accounts That'll Refresh Your Love Life
Shutterstock
You already know that the 'Gram is a treasure trove of style inspiration, beauty tutorials, hilarious memes, and drool-worthy recipes. But did you know that it's also a goldmine filled with dating and relationship tips? If you're looking to up your IQ in the love department, there are a ton of dating-themed Instagram accounts that dole out wisdom on the daily — from practical advice for couples on handling conflict to reassuring quotes for people who just went through a breakup.
Which accounts you choose to follow will likely depend on where you're at RN. Just got out of a toxic relationship? There's an account for that. Struggling to embrace your single status? There's totally an account for that. Need a laugh after a string of disappointing Bumble dates? Oh, fam, there are more than a few accounts for that (see: @textsfromyourex). One reason why Instagram is now a popular forum for dating-related content is that a slew of experts in the field — from couple's counselors to matchmakers and breakup coaches — have been using the platform to dish out their much-needed insight.
So, whether you're single AF, just started falling for someone new, are happily embedded in a healthy relationship, or are trying to move on from a painful split, you'll def want to hit "follow" on these accounts for some much-needed perspective.