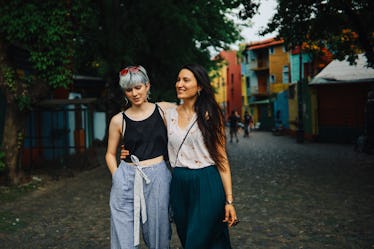 12 Underrated Milestones With Your SO That You Shouldn't Overlook
lechatnoir/E+/Getty Images
Being in a relationship can be such a beautiful whirlwind. One day, you might grab pizza with someone who slid into your DMs and laugh over the memes you've seen on the Internet while perusing the menu. Flash-forward a couple years later, and you may have an adorable apartment together in your hometown and endless memories, inside jokes, and tropical trips in the books. Life may feel so blissful, and the underrated milestones with your SO might get overlooked — simply because you're so happy.
That's OK. It's never too late to crack open a bottle of champagne and celebrate these milestones, or take a moment to appreciate how far you and your partner have come. As a matter of fact, you should celebrate everything that makes you happy and feels momentous to you, even if it's been months since you and your love officially became regulars at your favorite coffee shop. It's important to recognize the times you're proud of or could end up in a scrapbook one day, such as the first time you spent the holidays as a couple or went to a baseball game and split some chicken tenders and French fries.
Here are the 12 milestones, in particular, that are underrated but shouldn't be overlooked. Celebrate them today and always.