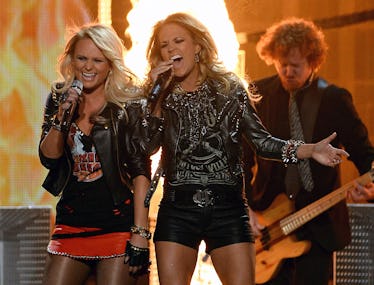 12 Sexy Country Songs That Bring The Honky-Tonk Heat
Ethan Miller/Getty Images Entertainment/Getty Images
Country music may be known for its whiskey-soaked heartbreak ballads, but you know what else it tackles really well? Songs that inspire *all* the racy thoughts. Blame it on the raspy vocals, the unabashedly rowdy lyrics, or the slick guitar solos — regardless, there is certainly no shortage of sexy country songs brimming with honky-tonk heat.
The only question is, what kind of mood are you in? There's a sexy country song for almost any occasion or situation, after all. While Kane Brown is known for tender tunes that'll make you swoon, Sam Hunt has plenty of songs that don't beat around the bush when it comes to the subject matter. Meanwhile, you can always depend on Carrie Underwood for those baddie bops that'll make you get into a little mischief, and only Miranda Lambert can make even divorce sound sexy. And of course, Jason Aldean and Luke Bryan have released countless jams about love-making that are oh so perfect for increasing anticipation and setting the right vibe before a date night in. All I'm saying is, the Country Music Awards should add a special category for "Sexiest Song" pronto.
So, if you're looking for that take-your-clothes-off kinda country music, here are some tracks you should definitely add to your playlist.