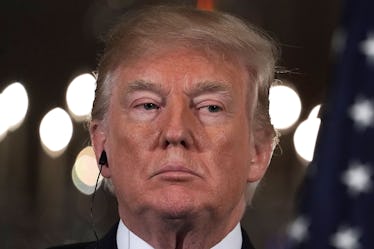 These 12 Memes About Impeaching Trump Will Make You Laugh So Hard
Alex Wong/Getty Images News/Getty Images
These days, no one is safe from the wrath of social media and the memes that ensue after a person nonchalantly barrages the public with chaos and controversy — including President Donald Trump. A quick scan of the internet and its darkest corners will likely produce a massive amount of memes about a possible Trump impeachment, whether it's because of his Russia denialism, the Stormy Daniels allegations, his frequent clashes with those closest to him, or any other scandal that has surrounded him and his administration. And I just want to begin with one simple message: prepare to laugh until your belly aches.
There are various reasons why people are pushing for Trump to be impeached, but the president's ongoing drama with adult actress Stormy Daniels (whose legal name is Stephanie Clifford) might stand out the most. Just 11 days before the presidential election, Daniels was reportedly paid $130,000 by Trump's lawyer Michael Cohen to keep quiet about an alleged affair she says happened with Trump back in 2006. Though many experts have speculated if the payment violated campaign finance laws, Cohen maintained that he paid Daniels from his own pocket and that it was unrelated to the campaign. Trump has also both denied knowing about the payment, and denied that an affair ever occurred between him and Daniels, although he later said he did reimburse Cohen for the payment.
The situation has raised tons of eyebrows, which resulted in a massive amount of memes about a possible impeachment (should Congress pursue the idea of campaign finance law violations). Even though it's probably not a laughing matter, I really can't help myself.
Go ahead and check them out.
There's also the fact that former FBI Director James Comey, who was fired by Trump in May 2017, recently released his tell-all book A Higher Loyalty: Truth, Lies, and Leadership, which renewed calls for impeachment, related to the argument that Trump obstructed justice in firing Comey and related to the Russia investigation. In the memoir, Comey discusses his experiences in his role, including some with the president himself.
For example, Comey claimed that Trump asked him to investigate the infamous "pee tape" to debunk rumors that he'd paid for golden showers from Russian prostitutes, in an effort to appease his wife Melania (Trump has denied all that). Comey wrote, "He brought up what he called the 'golden showers thing' … adding that it bothered him if there was 'even a one percent chance' his wife, Melania, thought it was true."
According to Comey, Trump went on and on about the claims and eventually mulled over the idea of having Comey investigate the rumors further. Comey continued,
He just rolled on, unprompted, explaining why it couldn't possibly be true, ending by saying he was thinking of asking me to investigate the allegation to prove it was a lie. I said it was up to him.
Twitter users were shooketh.
Well, that's really draining... (Get it? *slaps knee*)
According to USA Today, Comey also added in the book, "This president is unethical, and untethered to truth and institutional values. His leadership is transactional, ego driven and about personal loyalty."
Comey's comments are surely no different from what other social media users have said before. Once Comey was fired, many suspected that Trump had gotten rid of the director because he was leading an investigation into the Trump campaign's possible collusion with Russia in relation to its interference in the 2016 presidential election. (Trump has maintained that there was NO COLLUSION.) Some people have even said Trump's firing of Comey could be an obstruction of justice, so of course there were a ton of memes to go along with that, too.
How did I not see this one coming?
For now, Trump is here to stay. But if impeachment memes help social media users deal with him being in office, then carry on, I guess.