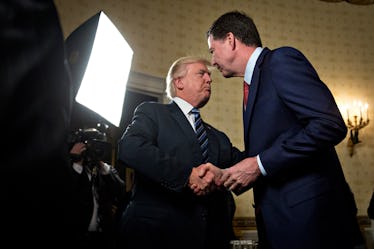 James Comey Spoke Out On Trump's Alleged Golden Showers Tape & I'm Uncomfortable
Pool/Getty Images News/Getty Images
We're so close to the weekend, and yet the White House drama still continues. On April 12, The New York Post reported that the former director of the FBI, James Comey, claims he was ordered by Donald Trump to investigate some — ahem — messy business. I could have truly lived a thousand lifetimes without hearing James Comey's comment on Donald Trump's alleged golden showers tape.
According to The New York Post, Comey claims in his upcoming book A Higher Loyalty: Truth, Lies, and Leadership that Trump allegedly asked him to investigate the infamous "pee tape" in order to — of all things — prove to his wife Melania that Trump didn't pay for golden showers from Russian prostitutes. Comey wrote,
He brought up what he called the 'golden showers thing' … adding that it bothered him if there was 'even a one percent chance' his wife, Melania, thought it was true.
According to Comey's book, Trump allegedly rambled on about the rumor and mused about the possibility of Comey investigating the tape further.
"He just rolled on, unprompted, explaining why it couldn't possibly be true, ending by saying he was thinking of asking me to investigate the allegation to prove it was a lie," Comey wrote. "I said it was up to him." The White House did not immediately respond to Elite Daily's request for comment.
According to The New York Post, this conversation allegedly went down on Jan. 27, 2017, but obviously no investigation came out of it.
This is the world we're currently living in people. Unbelievable.
Is your mind reeling yet? Well here's another doozy. In Comey's book, the former director wonders why Melania might think there's even a sliver of chance that these allegations could be true. According to Comey, there's a "zero chance" that his wife would believe such rumors. He wrote,
In what kind of marriage, to what kind of man, does a spouse conclude there is only a 99 percent chance her husband didn't do that?
I just. Can't.
In case you've tried to repress this story from your memory, here's a refresher (sorry). On Jan. 10, 2017 reports surfaced alleging that Donald Trump had paid Russian prostitutes to perform "golden showers" on the Ritz Carlton Hotel bed that President Barack Obama and Michelle Obama had slept in while visiting Moscow, Russia. This report came from a confidential dossier known as the Steele dossier allegedly put together by a former British intelligence officer, which claimed that Russia had incriminating information on Trump.
A report like that certainly can't be fun for the president, and naturally Trump wanted to squash the rumors quickly. So, Trump addressed the rumors in a press conference the day after they surfaced. However, his reasoning behind why these reports couldn't be true was a bit... unconventional to say the least. According to Trump, he couldn't have possibly took part in such activities like a "golden shower" because he's apparently a "germaphobe."
During his speech, he went into a bit more explanation behind his reasoning and addressed the rumors surrounding the alleged incident.
"Does anyone really believe that story?" Trump asked at the press conference. "I'm also very much of a germaphobe, by the way, believe me."
It's easy to poke fun at a story this juicy involving Trump. Even though the president may complain about media outlets on the daily, he apparently was pretty thrilled about how some news organization handled reporting about this story. He said at the same press conference,
I want to thank a lot of the news organizations here today because they looked at that nonsense that was released by maybe the intelligence agencies. Who knows, but maybe the intelligence agencies which would be a tremendous blot on their record if they in fact did that, a tremendous blot. Because a thing like that should have never been written, it should never have been had and it certainly should never been released. There were some news organizations that were so professional so incredibly professional — that I've just gone up a notch as to what I think of you, OK?
Newsflash Trump, I don't think most of those news publications care what you think of them.
Who knows if we'll ever get to the bottom of this mystery, or if it's even true. Regardless, let's hope Trump is enjoying his showers the old fashioned way.