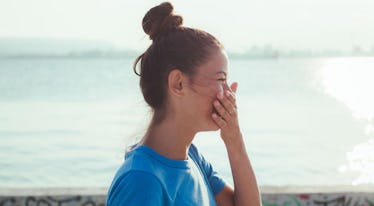 12 Relatable Memes That Describe Your Love Life If You're Not Exclusive, But Want To Be
Memes are a wonderful thing. There's probably a meme for every situation you can possibly imagine. Memes that describe you and your friends perfectly, memes that don't make any sense but still manage to make you laugh, and even memes that describe your love life if you're not exclusive, but you really want to be. Wanting to be exclusive with someone makes complete sense and is totally normal. You like them, and you want to be with them, so understandably, you don't want them to be with anybody else. But bringing this subject up to the person you want to be with can be hard, because what if they don't want the same thing?
Defining the relationship and establishing exclusivity can be tough. Sometimes you know what you want, but the person you want it with doesn't know what they want — at least not yet. Other times, you both want different things entirely. It varies per relationship, but when you know what you want, and you're waiting for the other person to want it too, it can be a total bummer. Why was it so easy for you to know you wanted them and only them, but harder for them to realize the same thing about you? That's where these 12 memes come in. They're way-too-relatable and will help you realize you're not alone, girl. Read on and LOL at this super annoying, absurdly common situation.