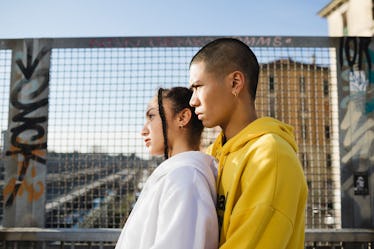 What To Do If Your Crush Isn't Picking Up On Your Signals, According To Matchmakers
Stocksy/michela ravasio
There are few things in life more frustrating than having a crush on someone who's just so unaware of your feelings. But, there are some things that be done, short of drunk-texting them or sending another round of risky texts. In fact, if your crush isn't picking up on your signals, then you should try these five matchmaker-approved tactics first, because honestly, sometimes people just need a little push.
The thing is, people can be clueless. And whether you've got a crush on someone, or you're wanting a friend to be something more, or you're just having trouble communicating your feelings, there are solutions to those problems.
But, the thing is, it can be tricky trying to get someone to notice you in a different way, or even to get them to pick up on the signals that you're putting out there. If you're at a bar, for example, and you see someone cute across the room, how can you get their attention? How can you make it obvious that you're interested? What about wanting to turn a friendship into something more? You might think that you're putting out all the right signals, but that doesn't mean you are.
So, check out what these matchmakers had to say about giving off signals, and what to do if yours aren't exactly working.