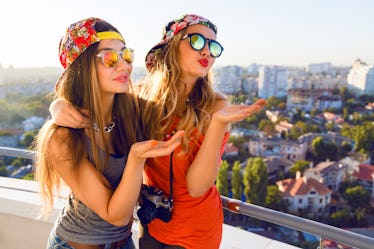 12 New Year's Resolution Ideas That Are So Inspiring, You'll Want To Make Them, Too
Every Jan. 1 comes with the amazing feeling of a fresh start — 365 pages to write the next chapter of your very own novel. That's why you set New Year's resolutions. However, every year, some resolutions tend to fall by the wayside. You've made it your mission to not let that happen this year. With NYE right around the corner, it's time to get on track. For the new year, consider inspiring New Year's resolution ideas for your fresh start.
I truly believe that a little inspiration goes a long way. When you're inspired, you're likely feeling 10 times more motivated to make your goals happen. Why else do you think there's always a pep talk right before the team takes home the gold in any epic sports film? That's why these 12 resolutions are perfect to set for 2019. Not only do they sound great on paper, but they'll make you feel incredible on the inside, too.
No need to worry about your resolutions going anywhere this year, because you're all set with sticking to them. In fact, consider these resolutions your sports movie pep talk from me to you, and I see a very golden new year ahead.