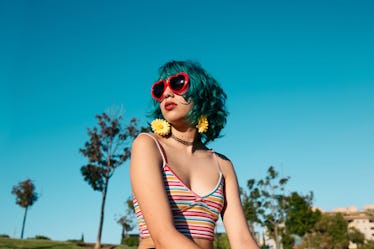 6 Best Things To Do Alone When You're Looking To Meet New People
Lucas Ottone, Stocksy
The struggle can be so real when it comes to making new friends. It used to be easy in grade school. You could just walk up to a girl at recess, tell her you loved her butterfly clips, offer her some of your Fruit Gushers, and then you'd become instant BFFs. Nowadays, it's hard enough juggling work and finding time to get all of your chores done around the apartment, that making new friends seems close to impossible. It's especially difficult when you move to a new city, because you're starting from scratch. But don't fret, because there are actually a few things to do alone when you want to meet people.
First things first: Finding some solid ground to start on always makes it easier to carry a convo with a potential new friend. When I first moved to L.A., I had two good friends in town, but I wanted to expand my social circle. I pushed myself to get out there, and now, I have a solid squad I can always turn to.
Looking at my friend group, I actually met them through some kind of hobby I started in my adulthood. So, even though it may seem like quite the task, finding new friends in your 20s is actually pretty easy. If you're looking for a good place to start, I suggest checking out any of these sic activities.