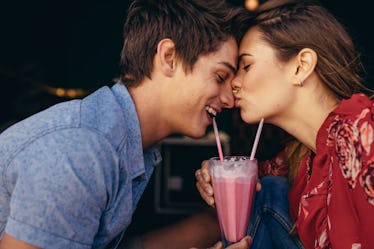 12 Hometown Dates To Help You & Your SO Know Each Other Better
Shutterstock
Whether you're bringing your boo back home for the first time ever or you're just looking to do something extra sentimental the next time you visit your parents, these hometown dates for you and your partner can be a great way to connect with them deeper (read: feel like you're a contestant on The Bachelor).
From hitting up a high school football game to grabbing a drink at a local bar with your childhood besties, taking your SO around your hometown can be a great way to teach them more about your childhood. Though you and your boo may know everything about each other, seeing them in the place they grew up can be even more meaningful. Maybe you share embarrassing stories as you retrace your steps at the mall or discuss the role that family has played in your life as you look through old photo albums. Whatever the case, hometown dates are the perfect way to learn more about each other in an informal setting. They also can be super fun and affordable, aka the best kind of dates.
Though anything you plan is sure to be perfect, if you need some extra inspo, these 12 dates will make your hometown where the heart is.