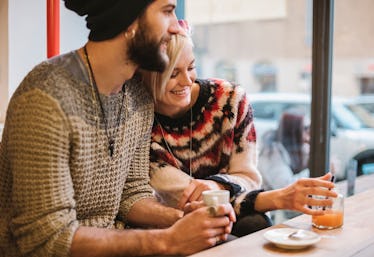 6 Romantic Date Ideas If Your Bae Is Visiting Your Hometown For The Holidays
For many of us, the holidays mean that it's time to head back home for some much-needed family time. If you've got a special someone in your life, the holidays are also the perfect chance for them to get to know your family on a deeper level. Since this process can be a little overwhelming, it's also a good idea to keep some date ideas if your bae is visiting your hometown for the holidays in your back pocket.
No matter how much you love your relatives, if they're anything like mine, then it's only a matter of time before you're going to need to come up for a bit of air — and if it's your SO's first time socializing with your family, they're probably going to be craving some solo hangouts too. The good news is that no matter how boring you think your hometown is, The Bachelor franchise has taught us that even if you're from a literal cornfield, your SO is probably going to love exploring it with you. And since the holidays tend to make everything feel extra special, with a bit of planning you'll get some romantic time alone and your bae will get to know you and your hometown on a deeper level. It's a win-win.