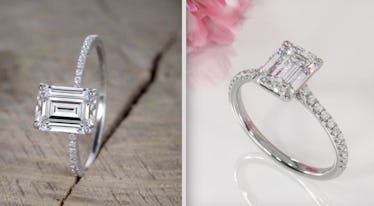 These 12 Engagement Rings Look Just Like Nicola Peltz's, But Cost *Way* Less
Via Walmart / ElizeJewellery on Etsy
ICYMI, Brooklyn Beckham and Nicola Peltz are officially engaged — and not only were their corresponding Instagram announcements adorable AF, but the ring is a real head-turner, too. Don't just take my word for it — scope it out for yourself. Then, once you've managed to retrieve your jaw from the floor, you can peruse this list of engagement rings that look like Nicola Peltz's but are way cheaper and thank me later.
The sparkler in question can be seen in the sweet photo they both shared on IG, in which Beckham and Peltz look like literal heart-eye emojis while posing against the Cotswolds countryside. According to Kathryn Money, Brilliant Earth's SVP of Merchandising & Retail, it appears to be a 4.5-5 carat emerald-cut diamond set on a delicate platinum or white gold diamond-encrusted band.
"The elegant simplicity of the ring's design allows the gorgeous, show-stopping center diamond to be the focal point," Money tells Elite Daily.
That breathtaking beauty comes at a price, however. Money estimates that the ring cost between $125,000 and $200,000, depending on the quality and specific characteristics of the center gemstone.
Whether you know it or not, emerald-cut diamonds are right on trend. While this ring style is largely considered timeless, it's seen a major resurgence in popularity thanks to celebs like Jennifer Lopez, Beyoncé, Nikki Bella, and Jennifer Lawrence all wearing similar cuts. And it's no surprise that this style has been making a major comeback.
"Elongated diamonds — including emeralds, elongated cushions and ovals — [appear to] lengthen the wearer's finger," explains Money.
Looking for some similar engagement bling on a tight budget? These lookalike rings are just as fabulous as Peltz's — but a fraction of the cost.