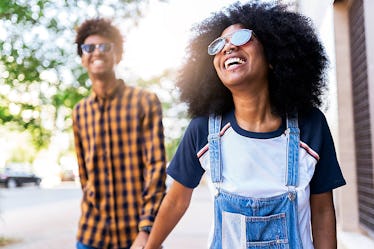 11 Tweets About First Dates That'll Make You Say "LOL, Same"
First dates are universal. Everyone who dates goes on them pretty often, sometimes several times a week. You know how they can be: Awkward, nerve-wracking, and yet, still usually a great time. But on the chance that the date ends up being miserable (which hopefully you never have to experience), horrible first date stories can actually be really fun to tell. Honestly, anyone who's been on a bad first date can relate to the awkward silences, the boring conversation, and the date's unpleasant rudeness. These tweets about first dates prove just that, and they're so relatable, you probably could've written them yourself.
If you're a rare gem who has never had a terrible first date and doesn't usually get nervous, I'm jealous. For those who get incredibly nervous when a first date comes around, fret not — I'm right there with you, and we're not the only ones. "Fearless first dates don't exist," Fran Greene, Licensed Clinical Social Worker and author of The Secret Rules of Flirting, told Elite Daily. "They don't exist. It doesn't matter who you are, what you are, everyone is a little bit nervous." But first dates aren't all bad, either. If you think about it, your next first date could be the start of something new, and that can be a comforting thought. (Yes, I just shamelessly quoted High School Musical.) Whether you're a first date pro or someone who still has a mild meltdown before each one, at least one of these 12 tweets will have you saying, "Same."