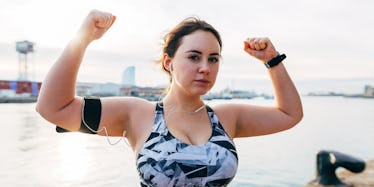 11 Accessories To Get For Your Workout If You're A First-Timer Who Needs Motivation
When you jump into a workout routine for the very first time, it can be hard, sure, but it's also really fun and inspiring. You can literally feel yourself getting stronger and stronger as the weeks pass, and it's exhilarating to find new ways to challenge your body. But no workout routine is complete without the right accessories, my friend. Stocking up on accessories for your first workout routine is crucial, but it's also a blast, because shopping, duh. But really, it's all about finding those little things that actually make you want to get up and slay your fitness goals each and every day.
Whether it's a cute water bottle that you'll always want to keep by your side, a supportive sports bra that you actually feel comfortable in, or a quality set of resistance bands to stash in your gym bag, these are all super practical accessories that will help you out if you're a first-timer at the gym. Even if you feel really lost at first, just remember that the name of the game, above all, is to find accessories that truly motivate you every time you look at them or wear them. Trust me, there's no better feeling than getting genuinely excited for your next workout, sheerly because you cannot wait to wear that adorable new pair of leggings.
That motivation can be difficult to maintain when you first start a workout routine, but with these 11 accessories, you'll always look forward to your next trip to the gym.