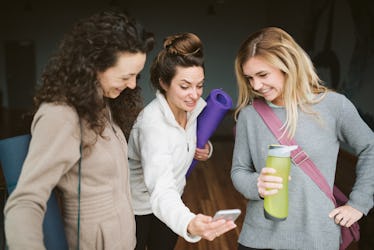 13 Workout Wardrobe Essentials That'll Make Awesome Gifts For Your Beginner BFF
Ask anyone who considers themselves a part of the #fitfam, and they'll tell you they're partially in it for the clothes. Long gone are the days when going to the gym meant throwing on a busted, old graphic tee and sweatpants (I like to think we have millennials to thank for that). The fashion realm is no longer catering solely to the risk-takers and trendsetters; style is now highly represented through our athletic wear, which makes it all the more fun to shop for workout wardrobe essentials for your bestie who's just getting started on her fitness journey.
Not only can you train your bestie like a beast, you can dress her like a beauty, too. With leggings officially counting as pants (sorry not sorry, Blair Waldorf), there are plenty of options to choose from to ensure she's dressed for success for every hot yoga class, HIIT circuit, and the like. As someone who owns countless pairs of leggings, crop tops to mix and match, and actively searches for the prettiest sports bras on the market, I can guarantee your girl is going to fall in love with everything athleisure. This is your chance to show her how it's done.
Here are a few key workout wardrobe essentials your beginner BFF is going to need to secure her #fitgirl status in 2018.