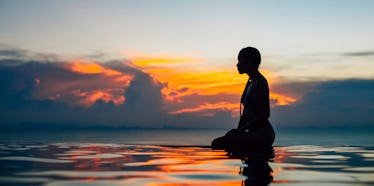 This Yoga Flow Will Keep You Grounded When Saturn Retrograde Tries To Mess With You
When a planet goes into retrograde, it can be tricky, to say the least, to navigate the sudden influx of emotions, communication mishaps, and major life changes. I mean, we're all getting pretty good at this, given that we're currently in the midst of Jupiter's retrograde, and throwing a freaking party because Mercury just went back into its rightful place — but wait, there's more! You might want to consider rolling out your mat and flowing through some yoga poses for Saturn retrograde, because yes, my dear friends: As of Tuesday, April 17, Saturn has begun wreaking havoc on us, as well.
Earlier this week, Saturn went into retrograde, meaning there's about to be a bit of a commotion down here on planet Earth (what else is new?). The ring-clad planet is said to be associated with discipline and karma, so this retrograde, in particular, may force you to confront some uncomfortable moments from your past that you've been avoiding up until now.
While all of this may sound kind of, you know, awful, I'm personally going to view this period of time as an opportunity for self-improvement, growth, and owning up to my sh*t, whenever and wherever necessary. You, too, can immerse yourself in some of these thought-provoking life lessons by getting on your mat and flowing through this powerful, grounding, and heart-opening vinyasa sequence.
Depending on how comfortable you are in your practice, feel free to experiment and add your own poses and movements into the mix, keeping in mind how your body and mind are feeling at the moment — this is your sacred time on the mat. Happy retrograde, yogis!