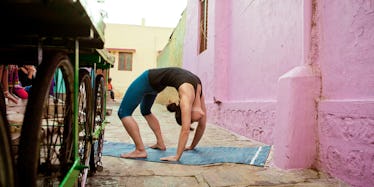 These 5 Yoga Poses Will Help You Grow As Jupiter Retrograde Takes Its Toll On You
With Jupiter currently in retrograde, you're about to have a hell of a lot of challenges to conquer in the next several months. In case you didn't know, the biggest planet in the solar system will remain in all of its retrograded glory until July 10. We're talking some major, long-term self-improvement up in here, people, which means it's time to add a few yoga poses for Jupiter retrograde into your practice to help you navigate the challenges and embrace positive change.
Honestly, when I first realized Jupiter retrograde was going to last until freaking July, I was dumbfounded. As bad as Mercury retrograde is, at least it usually only lasts for, like, a month. Damn, Jupiter... have you no mercy?
When I thought about it a bit more, though, I realized that Jupiter's retrograde isn't anything to be afraid of, but rather, an opportunity to welcome change. It's a time to sit down and actually evaluate any serious sh*t you've maybe been avoiding in your life, and make long-lasting changes that will lead to significant, positive transformation.
I know, that kind of sounds like a lot. How does one "start" the process of self-improvement? Well, I've always found that yoga can be a great place to start, even if you feel like you don't know where to start. Try these five asanas to help inspire a bit of change in your life.