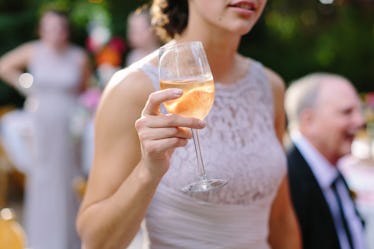 10 Wedding Speech Horror Stories That Will Leave You Speechless
What makes a good wedding speech? Most would agree it's short and sweet, and packed with personal details about the couple's unique bond, heartfelt wishes for the journey ahead of them, and perhaps even a touch of humor for some levity. If only they could all follow that basic formula, right? But there are so many ways a wedding speech can go south. I should know, after peeling through more than 100 wedding speech horror stories on Reddit.
I've also been a real-life witness to the potential for disaster when it comes to these speeches. As maid of honor at my best friend's wedding last September, I gave a super sincere speech about how the bride and groom met, and how I played a role in their relationship early on. I peppered it with warm and fuzzy deets about the couple and a few inside jokes about Chicago pizza for good measure (you had to be there). After I passed the mic to the best man, he rattled on about the groom's most humiliating tales from adolescence for about 25 minutes. "Did I do it wrong?" I asked my boyfriend. "No, everyone loved it," he said. "Ragging on the groom is just par for the course in a best man's speech." The look on the bride's face said it all: woof. Apparently, there's a very good reason that nearly half of all brides fear the best man's speech, according to Komo News.
To be clear, a bad wedding speech can be delivered by a bridesmaid, the mother of the groom, or even grandma. It can be totally harmless, such as when the speaker's nerves get the best of them, or they ramble on a tad too long. Warning: That is not what these cringe-worthy stories are about. These are the kind of wedding speeches that leave you, well, speechless.