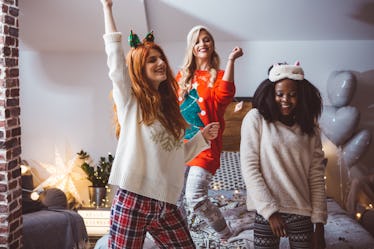 10 TikTok Dance Challenges To Do On Christmas That You'll Fa-La-La-La-Love
svetikd/E+/Getty Images
On Christmas morning, after opening presents and sippin' hot cocoa, the next thing you absolutely need to do is film a TikTok dance. Sure, it may not be the first thing that comes to mind, but there are TikTok dance challenges to do on Christmas that'll have the house feeling extra merry and bright. It might even become a new holiday tradition.
Instead of scrolling through your feed on your own, this is a fun way to get everyone in the house involved. After all, the season is all about spending quality time with the people you're celebrating with, and there's no better way to do that than with a holiday TikTok dance challenge that'll have the whole group LOLing.
This year has blessed us with so many dances to try to master. It seems like there's a new Christmas dance every week, and we're not complaining. There are classic holiday songs that have dances that should be easy enough for the whole house to tackle, and festive remixes of TikTok songs you already know and love.
Clear some space in your living room, put on some matching holiday PJs, and set up your phone for recording. Start off with just one of these 10 Christmas TikTok dances, and you'll quickly realize how much you'll want to do them all. That's how much you'll fa-la-la-love it.