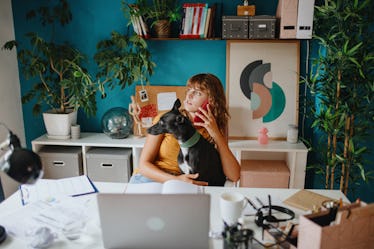 10 Things To Buy Your Pup For Your Home Office, 'Cause They're Your Loyalest Helper
Anchiy/E+/Getty Images
Your current situation may look a little something like this: Your pup is your best fluffy co-worker who you see on the reg. It may not have been part of your initial 2020 plan to work from home full time, but you're thoroughly enjoying responding to emails while also petting your pup who's chilling on your lap. Of course, you want the loyal helper in your life to feel completely cozy in your home office space and need the deets on how to set your dog up in your home office.
As much as you enjoy them sitting on your lap, you know it wouldn't be a bad idea to give your golden retriever or husky mix their own comfy place to sleep while you type away. In a bed that's equally as fluffy as they are, they could dream about chasing a tennis ball or enjoy a delicious treat with you during your coffee break. You'll tune into virtual meetings without one worry that your pet is getting the love, attention, and care they need.
Of course, when you're on your lunch break, you can reach under your desk, give them a pet, and then play with your pup in your home office. To get started on this dream of a situation, check out some of these products and ideas, and hit "Add to Cart" on your next break.
We only include products that have been independently selected by Elite Daily's editorial team. However, we may receive a portion of sales if you purchase a product through a link in this article.