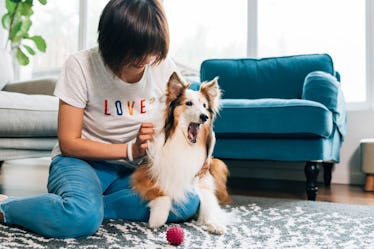 Experts Reveal 5 Ways You Can Show Your Dog Love, Based On Their Love Language
When my dog Hank was a puppy, I thought that the thing he liked most in the world was trying out tasty new treats. Whenever he seemed especially bored or sad, I would pull out a crunchy bone or a long-lasting rawhide for him. But I soon began to realize that what he really wanted whenever his mood wasn't great was one-on-one time with me. If he's anxious, he'll walk over to me and rest his head in my lap. If he's bored, he'll come and sit on me until I scratch his back. It can be hard to know how to show your dog love sometimes, especially since they can't verbally communicate with you. But, according to experts, once you figure out your pup's love language, you'll have plenty of options for ways to show just how much you care.
"Enrichment and meeting your dog's needs is the number one way to show love for your dog," Russell Hartstein, CDBC, CPDT-KA, a dog trainer, behavioralist, and CEO of Fun Paw Care tells Elite Daily. "People many times misunderstand love and simply love the way they want to love. In essence, it may be a selfish type of love." In order to figure out whether your pooch loves being scratched behind the ears or wants a fun session of fetch at the local dog park, pay attention to what makes them excited, Hartstein suggests in an email to Elite Daily.