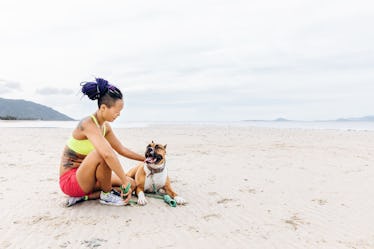 Experts Say Dogs Have Love Languages, Too, So Here's How To Decipher Your Pup's
Whenever I pick up a bone for my dog Hank at the store, I can hardly contain my excitement before giving it to him because I know that he loves treats more than almost anything in the world. The moment he smells anything tasty, his ears perk up and he begins to run in circles, and trust me — it's the cutest thing to watch. I think it's safe to say that every dog loves treats, but besides loving food, do dogs have love languages? According to experts, they definitely do, and figuring out how your pup gives and receives love isn't as hard as you might think.
According to Dr. Matthew Goetz, medical director at the Arizona Animal Welfare League, deciphering your pup's love language is all about paying attention to their actions. "If your dog does something that does not benefit them at all but because it keeps you safe or brings you joy, they are doing it out of love," he tells Elite Daily in an email.
The dog love is real, folks. Michelson Found Animals, an animal welfare non-profit organization, recently conducted a survey of over 1,000 people, and found that 81 percent of respondents consider their pet to be one of the greatest loves of their life. What's more, 47 percent of people in the survey said their pet actually taught them how to love.
So while you might think of Valentine's Day as a time to appreciate your romantic partner or your "galentines," make sure you don't forget to celebrate your puppy love, too. Here are some of the ways your cute canine shows and receives love.